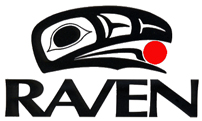 Return to Sundeer Sale Page Sailing Raven
The Cutter Rig
We read all of the Dashew material, as you probably have, before choosing to buy a Sundeer 64, and we definitely wanted one with a ketch rig. But the only ketches available were in poor condition, so Pete Bollman of Bollman Yachts found Raven for us and convincingly explained that a cutter rig was a better idea for most cruisers anyway. He claimed the rig is much simpler to handle and the big bonus is a bimini to shade the cockpit while at anchor and at sea. At the time, the bimini part sounded trivial, but after sailing 15,000 miles mostly in the tropics we can confirm that Pete was right on all counts. In addition, we found that haulouts are simpler since at most we have to loosen the forestays to accommodate the Travelift; friends who own a Sundeer ketch often have to pull their mizzen mast in the same situation.
Steve Dashew loves fast passages, and a ketch lets him carry more sail area. Like most cruisers we know, we prefer to go fast but we also like our comfort, especially at sea. For example, read about the Teschke family's circumnavigation aboard their Sundeer 64 in the Dashews' Offshore Cruising Encyclopedia, and how they preferred much smaller sail combinations than Steve uses. Here is how we sail Raven:
Downwind and Reaching


"Where you going on your cruise?" The correct answer is "Downwind!" at least for most of us. And Sundeer 64s excel at sailing on all wind angles from close to broad reaches, under reacher or spinnaker. Raven really kicks up her heels at true wind angles of 70+ degrees, when the reacher gets unrolled and the speeds jump. Ten knots boatspeed in fifteen or so knots of wind is ordinary, especially when the windward water ballast tank is full. A little more wind and a little more angle and the speedo rises to eleven knots.
Sailing dead downwind is rarely a speedy idea in a modern sailboat, including a Sundeer. We have found that Raven's optimum downwind performance in the usual South Pacific trades (15 to 18 knots true wind speed) comes at an apparent wind angle of about 120 degrees, which usually results in a true wind angle of 145 degrees. She seems happy at those angles and speeds under either reacher or cruising spinnaker ― the chute is especially helpful at lower wind speeds.
Passagemaking
Our usual reaching-to-downwind passagemaking setup, when the winds are moderate (15-25 knots), is to hoist the mainsail with one reef and to use the three roller furling headsails to vary our sail area over a wide range. In lighter airs, with the reacher we set a total of more than 2,100 sq.ft. of sail, even with the main reefed. Furl the reacher and roll out the jib, and our sail area drops to about 1,500 sq.ft. And with the single-reefed main and the staysail we set only about 1,000 sq.ft. This tactic allows us a huge range of speed potential without ever leaving the cockpit, since all three headsails furl using the small electric Lewmar next to the helm. When the breezes are lighter, we have only to shake out the single reef in the main and then decide if we want to have a little fun and set the chute, or be lazy and stick with the reacher.
Upwind

Raven is a huge amount of fun to sail upwind, but she's not a tight-winded racing demon. During a couple of Banderas Bay Regattas in Puerto Vallarta, we found ourselves outclassed upwind by the J-boats and other fully-keeled racers. As soon as we rounded the weather mark, though, it was another story as Raven powered over the others with her reacher or cruising chute. If they had been designed for racing, Sundeers would have bulb keels and draw ten or twelve feet. instead, they're designed for shallow-water cruising and fast passagemaking, mostly downwind.
When the destination is dead upwind, Raven's best sail combination is "the VDS and the 140-percent Yanmar". Our "VDS" (Vertical Dacron Stabilizer) is the mainsail with a single reef strapped down tight, and the "140-percent" Yanmar" is our faithful 140-horse diesel set at moderate RPMs. While everyone else is slogging over the waves and sagging off to leeward, we head about 12 degrees off the wind and just power into it, making seven knots or better VMG. Fuel economy is excellent ― 1 or 2 gallons an hour ― if there's even a little bit of breeze. We always get there hours or days before the others.
Reefing
Another smart Dashew touch, slightly modified by us, is Raven's reefing system. Whether heading upwind or down, reefing is easy and quick, with no requirement to head into the wind to ease the strain. We have reefed in 35 knots while broad reaching without touching the autopilot heading.

The electric Lewmar 48 winch at the mast base handles the hard work of hauling in the clew reef line. The winch can even be operated by someone inside the pilothouse, using a button on the autopilot remote. The person working at the mast base gives hand

signals to the winch operator, while hauling down and cleating the line on the mainsail tack; there's a manual winch on the mast for this, in case the wind pressure is high. This takes perhaps five minutes and can be done by one person only a little more slowly. The extra fold in the sail flakes nicely into the leeward lazyjack and the stainless steel boom racks that we added in New Zealand. The Antal track on the mast and the Antal clew blocks make reefing much easier and reduce chafe.
Yes, we've had some wonderful cruises aboard Raven, and we do hate to sell her. We can only hope that another family will love her as much as we do.
Jan & Signe